Avon Serum Foundation 30ml
Avon Serum Foundation 30ml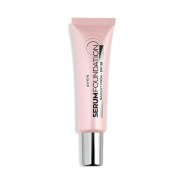 Product Info
Where to Buy
<a href="https://my.avon.co.za/">BUY NOW</a>
<br /><br />
<strong>Price:</strong> R199,99


PROMOTION: If you order in September, you can bag it for just R169,95! 
 Avon Serum Foundation is a triple-action product that nourishes, protects and covers skin. It's designed to actively improve skin's appearance and texture with every wear. It's a light-to-medium coverage foundation that leaves skin looking three times as moisturised* immediately after use. Its radiant finish is sweat- and humidity-resistant, leaving you with luminous-looking skin for longer.
 Packed with active skin brightening and nourishing ingredients, including antioxidants and vitamins C and E, it works to improve the look of your complexion in just four weeks.** It also has the added benefit of SPF30 to protect against UVA and UVB exposure and signs of ageing. Plus, it's available in 18 shades at a competitive price.