Australian Gold Instant sunless spray
Australian Gold Instant sunless spray
Hot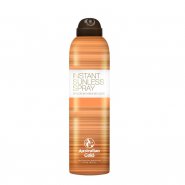 User reviews
Instant Sunless Greek Goddess
Well, all my friends spent the school holidays in Greece, but my colour is just a GOOD with this product.
Not only that but it is easy to use, simply spray it on yourself. You only need to let it dry for 60 seconds before dressing and you only need to wait a minimum of 2 hours before bathing. I cant as yet comment as to its last ability but will update this review soonest. So if you are looking for a instant sunless tanning spray that gives you great immediate colour, dries quickly, pleasant smelling & that you are immediately good to go out and about without looking weird - look no further ( I recently bought an equally expensive one & could not leave the house as I look weird when it was applied and had to wait to take a shower first). Will update you soonest on peer feedback and last ability. Stay tuned !
Product Recommendation
Would you recommend this product to someone else?
Yes
Would you repurchase this product?
Yes