Review Detail
4.1
7
0.5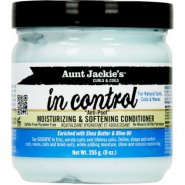 Moisturisers
May 04, 2017
120
Aunt Jackie's Curls and Coils in Control Moisturizing & Softening Conditioner
I use this as a deep conditioner and it remains a staple in my regimen.

After washing my hair, I apply the Aunt Jackie's Curls and Coils in Control Moisturizing & Softening Conditioner and leave it on for at least 45 minutes and the results are never disappointing. It contains Olive Oil and Shea Butter, these are some of the things my hair loves.

The scent of this conditioner is very playful and delightful. I enjoy it because it's better than that nasty "salon scent" from other products.

The consistency is thick, but it applies easily into the hair. I don't have to do much to work it into my hair. Once it's on my hair, it's as is the conditioner knows where to go and what to do when it gets there.

I end up with soft hair that smells good, hydrated hair and no frizz. Especially when I add heat during my deep conditioning stage. Detangling my hair is quite effortless when I've deep conditioned with Aunt Jackie's. The container is plastic, which is great for handling in the shower, I don't need to worry about it breaking and cutting me in the shower.

It is effective and affordable and now available in the bigger sizes.
Product Recommendation
Would you recommend this product to someone else?
Yes
Would you repurchase this product?
Yes
Comments